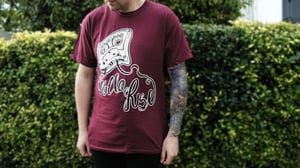 £

5.00 - On Sale
"Tape Deck" print on Gildan soft weave.
PLEASE NOTE:
Postage Worldwide.
Item may take up to 3 weeks before being dispatched.
Please CHECK YOUR ADDRESS before ordering, we cannot accept responsibility for your item being misplaced because of an incorectly supplied address.
If you have any queries/concerns regarding sizes, or you've waited for your item to arrive longer than the above mentioned amount of time, please EMAIL US DIRECTLY at: villarise@hotmail.com
Thank you for your support!